Turn Your Next Event into an venture!
Tired of your typical golf outings or skybox experiences? Having trouble filling the guest lists for your events? Takedown Eventures to the rescue!
Excite & Empower
There are few things in life that excite and empower the human spirit more than outdoor adventure. Takedown Eventures uses the great outdoors to create unique experiences for businesses and organizations to entertain their guests. Spend the day shooting shotguns, compound and recurve bows, crossbows and throwing spears!
From novice to expert, the Takedown Team will roll out the red carpet treatment for our guests. Every Eventure is sure to satisfy that desire in all of us for adventure, competition and camaraderie no matter if you grew up in the country or the concrete jungle of the big city.
Powerful & Premium
Take advantage of this powerful resource for your business or organization. Harness the trending interest in the outdoors from both young and old largely due to movies like The Hunger Games, Brave and reality shows such as Duck Dynasty. It seems that everyone is wanting to tap into their "wild side".
Takedown Eventures are strategically designed to be highly relational and intimate, even in cases of larger groups. We are the premium entertainment option available and our standard of excellence is evident in every last detail. Discover the 5 ways an Eventure can help your business or organization. Get your guests to say "yes" and stand out from the rest!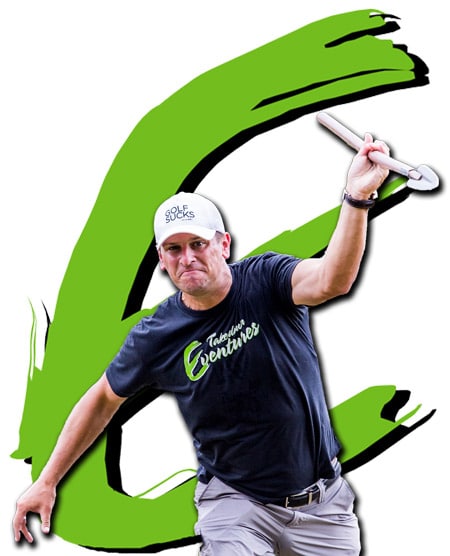 "Having been a financial advisor for over 25 years I have attended countless dinners, banquets, concerts and trips. Nice as they have been, I am not as interested in such activities as in the past (been there done that). But when invited to attend your Takedown Eventure I felt it would be interesting and different and was not disappointed. It was such fun to be able to learn and do things I have never done before. Would I go again? A resounding YES. Would I recommend it to others? ABSOLUTELY! Many thanks to you, your staff and chef for providing an unusual event that was truly memorable."
Bob Noerper
"Last year was a first for us at Heritage Crystal Clean to go out of our comfort zone and try a different venue for one of our Sales Contest. In the past we've done the norm such as golf outings, dinners and even a whitewater rafting trip. These have all been nice, but my Sales Team could not stop talking about the great experience they had with Takedown and your entire staff! All of them have been asking me to put together another contest and, without a doubt, they want to return to not only all the exciting events but also the wonderful wild game luncheon served. Once again thanks for the GREAT time!"
Mike DeAngelis
"Takedown Eventures provide a truly unique opportunity for an entry point with potential prospects. Novice friendly and relationally focused, these Eventures offer tremendous value to any business or organization. Being able to share with our clients this one-of-a-kind experience strengthens the relationships and speaks volumes to what sets our firm apart."
Scott Brown
"I can't thank Jason, Jerry and Scott enough for co-hosting my best event in 6 1/2 years. What an EXPERIENCE!"
Dan Blong
"We received many compliments on the Takedown Staff's comforting and educational nature in the outdoor learning experience. I highly recommend including Takedown Outdoors for your next corporate retreat, picnic, team building or customer entertainment event!"
Luke Slawek